Valentines is generally considered to be an event for the ladies. We assume that men don't really care for it, and that they only participate to indulge the women in their lives. A lot of them do feel forced into it, either by guilt, peer pressure, or the terrifying prospect of her revenge. If you 'forget' to acknowledge Valentines, you're in for a long night or three.
It's also assumed that men prefer practical gifts. So if you are going to 'buck tradition' and get him something special this Val's, you're probably leaning towards a silk tie, fancy socks, a videogame, or sports tickets. Those are all good ideas, but take a leaf out of your own book. You consider Valentines to be a romantic event, and you expect amorous mementoes.
In the same way that flowers, jewellery, perfume, and chocolate represent Eros, you want to get him something significant. You want something that says 'You're sexy and I love you.' You can't exactly wow him with lingerie … since most guys don't wear satin and lace. Yes, you can still buy yourself some and he'll enjoy it, but you need a gift he can show off to his boys.
Plus, a lot of modern men actually get anxious about Valentines night activities. They feel there's too much pressure to perform, and it can affect their enjoyment of the moment. So, if you can, make the evening fun and relaxed, with no expectations of fireworks. If it happens, it happens, and if not, he'll be glad you didn't force the moment. Make it all about him.
Pamper Him Deluxe
Get him to come home early and give him a real treat. There are lots of movies where the hot leading woman gives her leading man a sexy shave, so there's an idea, if your hands are steady enough and he trust you with blades. Run him a hot bath or share a steamy shower, sudsing up with Urban Rituelle All-in-one Wash.
Dry off and settle him in a plush manly bathrobe and give him a soothing shave using Urban Rituelle shave cream and aftershave balm. Afterwards, settle down and have a cosy home-made dinner with assorted chocolate for dessert. If he's up to it, you can break out the lingerie. If you like, for an added fee, you can add a drink of your choice to the gift hamper for him.
Tile Sport
There are lots of little gadgets to help us find lost keys. Unfortunately, they're all dainty and cute, so they don't seem appropriate for the 'manly man'. If your rugged guy-friend is on the forgetful side, get him a Tile Sport. This sturdy waterproof cube is a little more than one square inch. You can attach it to keys, backpacks, helmets, or anything else.
There's even a Tile Slim version that's slightly wider and thinner and fits snugly into your wallet. The Tile works with an app on your phone, and uses Bluetooth to send signals up to 200 feet. It shows you its location with a variety of ringtones, and it can survive underwater for up to 30 minutes, at a depth of 1.5 metres. Just remember to pair it and turn it on.
HyperChiller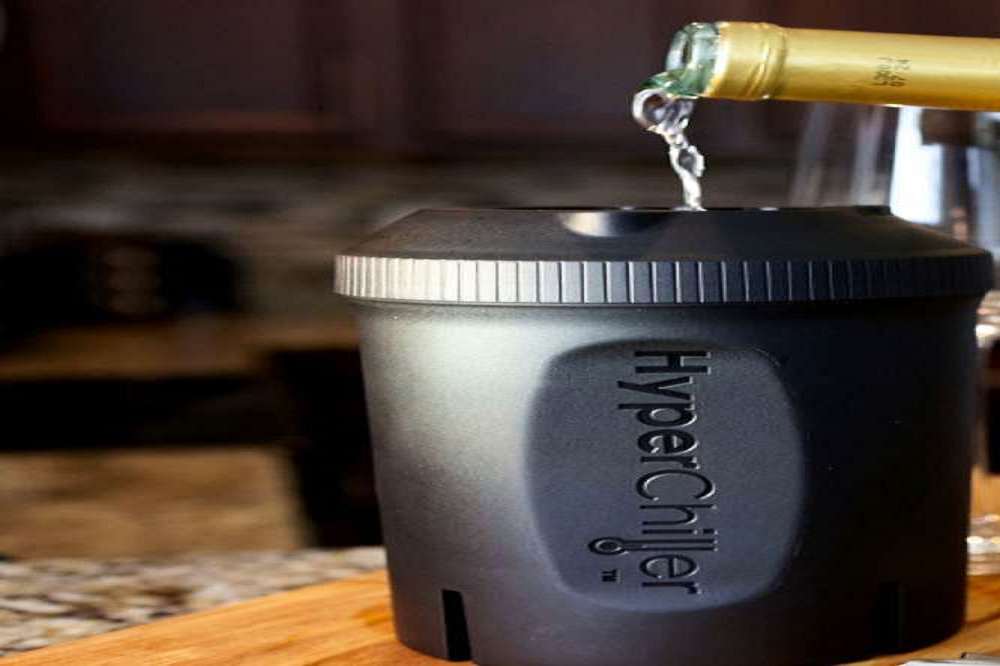 How does your man like his drink? We're not just talking about whiskey and beer. He might like his coffee or latte on ice. Whatever he prefers, it can be annoying to when he feels that watered down taste on his tongue. What if he had a way to chill his beverage without diluting its flavour? And what if the device looked as cool as its function and worked in minutes?
The HyperChiller looks like an irredeemably masculine thermos mug, except that it will cool any drink in minutes. It has three chilling chambers that get your drink to the right temperature in one minute flat. It's equivalent to the chilling effect of thirty ice cubes.
The empty chiller lives in the freezer. When you want a quick cold drink, you take it out, pour the drink into it, wait a minute, then extract and serve your cold drink. You can use the HyperChiller two or three times in a row before refreezing it, and has a large liquid capacity.